Sometimes it's just plain hard. Life. Life pushes you against a hardness you never expected. You elbow and shoulder and try to move it. You can't. You can't control that hardness. Sometimes you just can't control circumstances.
What do you do? You can decide to find a small spot in that plain hard place. A small spot that is a Happy Day Moment.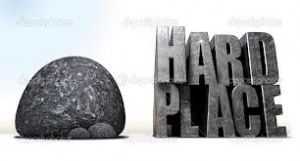 Even in the mystery of the hard places, you can ease down, relax and breathe. You choose to turn around and look away from the hardness. You can control what you do in those circumstances.
You can alter your vision – choose to see differently. Life is not without mess or trials or hard places. You have stress and loss and hurts and sickness and rejection and periods of pushing against hardness. But there is still good and grace and love and worthiness, even when difficult things happen.
No matter what, life is a gift and you and I can choose to live with gratitude.
Being happy is a choice that comes from the inside out. You don't need to be happy because of a certain situation, outcome or circumstance. You can choose to find a "happy moment" because you are alive.
It takes practice, believe me, but you can learn to be happy (even for just a moment) each day by simply being grateful.
This "living with gratitude" mindset  is affirmed in the Echoes of October's posts on my Happy Day Moment Facebook Page (#happydaymoment tweets).
Take a minute to reflect on each and let me know if one pulls you away from your hard place.
If you find yourself in a place you never thought you'd be, remember, there is no place God is not.
Realize this: it's not the happy that makes you grateful; it's the gratefulness that makes you happy.
There is no shortage of supply from the treasures of God's mercies.
You are made for a life of meaning and purpose. Capture the fire of your significance.
The happiness paradox: you find greater happiness when you stop looking for it and instead help others to feel it. Serving others develops joy.
Live so you never regret the chances you didn't take, the love you didn't let in, the gifts you didn't give.
What you cannot get back: Words that you speak. Time that is spent.
Bend into kindness one more inch, just one, and that shall be enough.
Give away love and peace and they shall return to you.
Perform a "stealth kindness" — something nice for someone without them seeing you do it.
The kind of relationships, the kind of friendships, that matter are about selfless, sacrificial love.
Kindness and forgiveness trump being right. Every time.
Keep doing fun things.
God's love can bring you through emotional earthquakes, can lift you out of betrayal and hurt. It can deliver you from any mess.
Two things: Love God. And love your neighbor.
Yes. Think on the good. Look for the good. Be the good.
Gratitude may seem like a simple emotion, but it inspires kindness, connection, and powerful life changes.
Don't cheat yourself out of discovering a priceless moment in each day. Your real life is today. Not yesterday. Not tomorrow.
You can choose to respond with grace even when others are not gracious.
Never grow tired of doing good, for in due season you will reap, if you don't give up.
Whatever you cherish in your heart is what will flow out.
You can do without loving, but you cannot love without doing.
Forget the failures of your past and focus on your present opportunities.
Keep a daily gratitude list as a simple way to make thankfulness a habit.
Don't bear a grudge against your kinsfolk. Love your neighbor as yourself. — Leviticus
Listen with an open mind instead of a wounded heart.
Be encouraging. Be uplifting. Be the voice that heals.
(Remember: you can "Like" my page, and you can "subscribe" to this blog!)