I could eat popcorn every day.
If I'm sad, eating popcorn makes me happy. If I'm happy, eating popcorn makes me happier.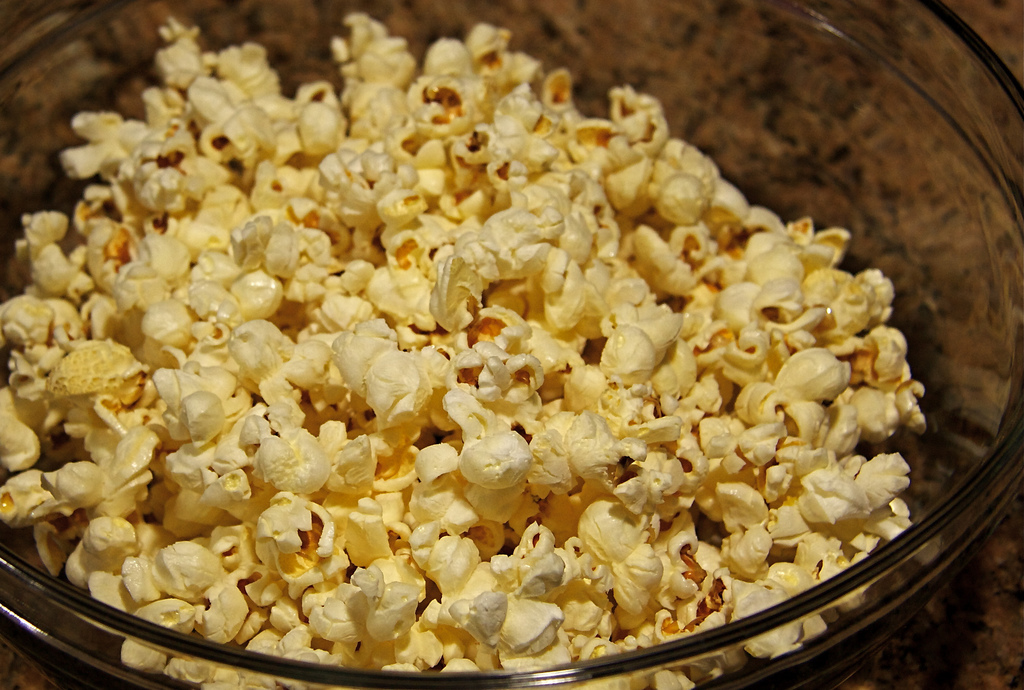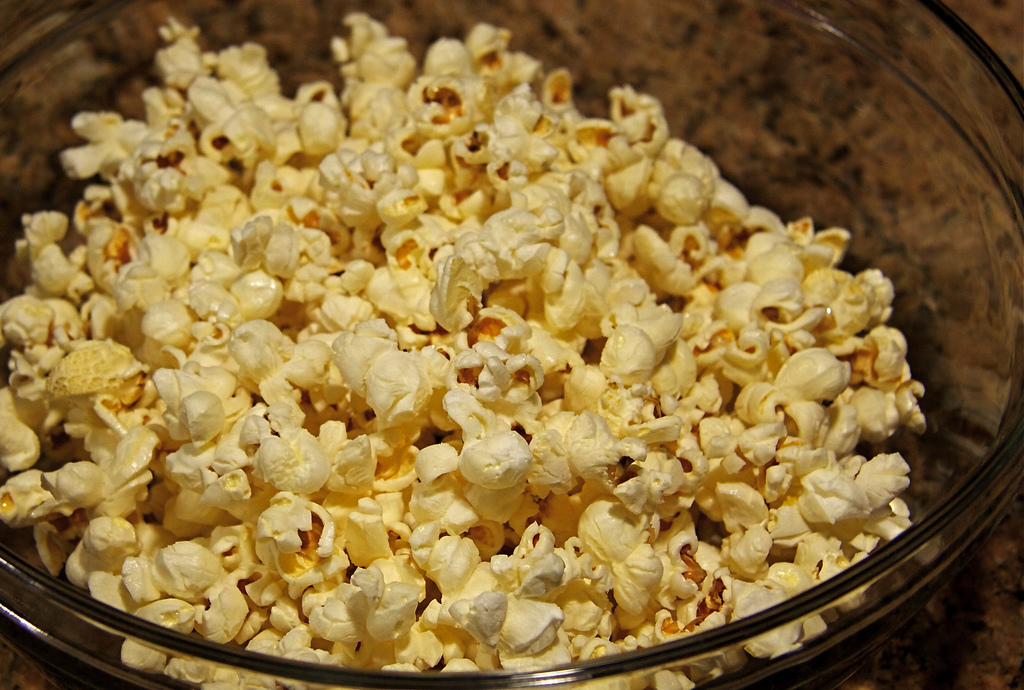 The sound of popcorn.
The smell of popcorn.
The taste of popcorn.
The sight of popcorn.
The touch of popcorn.
The music of its popping. The intoxication of its smell. The crunching. The saltiness.
The beauty of individual kernels. Butterflies. Mushrooms. The old maids at the bottom of the bowl.
All the senses love popcorn. All my senses, anyway.
One of my cherished childhood memories was not just falling in love with the taste of eating popcorn, but also falling in love with the ritual of making popcorn. Around our house, Sunday night was mom's night off, as far as meal preparations were concerned. Which meant everyone for himself. Leftovers.  A bowl of cereal. A bowl of soup.
But mostly, a bowl of popcorn. My whole family could snarf down popcorn, and it was a Sunday night tradition to munch it while watching the The Wonderful World of Disney.
So, just before Tinkerbell shook her magic wand to begin the show, I'd offer to help make the popcorn. I'd pull the two-quart Revere Ware cooper-bottom saucepan from the cupboard, pour the right amount of oil (as I'd been taught) into the bottom, dump the measured popcorn over the oil, and cover with the lid. And wait for another kind of magic to begin.
Standing at the stove, clutching a potholder over the lid, I'd slowly slide the saucepan across the burner, back and forth, back and forth, an easy rhythm. Soon hearing those first small pops and anticipating the lid rising from the full explosion of kernels.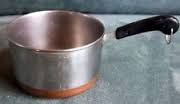 Then I'd melt the butter in the delightfully miniature one-cup Revere Ware replica of Mom's two-quart saucepan. As I have a love for all things miniature, preparing the melted butter in that baby pan always made me goosebumpy with enjoyment.
Popcorn time meant family time. And not just on Sunday nights. But for movies. Ball games. Carnivals. Fairs. Christmas.
In memory of my childhood Sunday nights, I can still make a meal out of popcorn. In fact, I often do. I've made it for dinner, a quick lunch, and eaten left-over popcorn for breakfast. In high school, popcorn was my meal of choice thanks to Mr. Carmichael and his glorious popcorn machine in the hallway outside the cafeteria.
I eat stove-popped corn, air-popped corn, microwave-popped corn. Overly-buttered and salted popcorn. Overly expensive movie popcorn. Carmel corn. Kettle corn. Gourmet corn. Amish corn. Open-fire corn. Day-old stale corn. Popcorn balls. Artificial buttered-flavored popcorn and the oddly-orange cheese popcorn and the super-sweet caramel corn in those ginomous tins sold everywhere during the holidays.
Okay, I admit it: I may have an unhealthy preoccupation with popcorn. Do I eat popcorn socially? Yes. Do I eat popcorn when alone? Yes. Do I lie about my popcorn consumption? Yes. Do I hide the evidence of popcorn consumption? Yes, Yes. Do I make up lame excuses for popcorn consumption? Why yes, I just may.
I even have a personalized bowl for my pile of popcorn. "Jama's Popcorn." Need I say more? Nothing personal. But get your own bowl.
Sometimes I eat popcorn as an almost holy ritual, searching the bowl for the most buttery pieces, eating one by one, marveling at the uniqueness of each kernel. Sometimes I watch every blessed movement of hand to mouth, I'll eat pieces, one by one, chomping every piece with gusto, lips smacking.
Then sometimes I eat popcorn as a passionate girl who loves with abandon, shoveling handfuls into my mouth as though it's my last meal, a race to see the bottom of the bowl.
No matter how many times I do this, a posture of worship at the kitchen stove, or staring at the popper with such intensity you'd think this billowing cloud of popped kernels really was a miracle. And as soon as those white drifts start spilling into the bowl, wide-eyed, Do you see this? Do you SEE?!
This popcorn cookery, this popcorn consumption doesn't lead to epiphanies, not of the startling kind, just inaudible sighs, moments of fleeting gladness.
Recently, during a Girls Night Out, the conversation with my girlfriends meandered around to popcorn. Because who doesn't want to talk about popcorn? Isn't that a topic all middle-aged grandmas discuss? Confessions of Popcorn Enthusiasts.
Molly explained that she buys some special white kernel corn and uses coconut oil. Gail recommended popping corn in bacon grease. There was a collective, "Ooooh" at that suggestion. Perhaps for our next GNO we ought to have a popcorn carry-in.
So maybe I'm not alone. Maybe others might also confess to a desire to eat popcorn every day.
Popcorn brings family and friends together. Popcorn just says, "Fun!" Popcorn is scattered, hare-brained. Popcorn is a party. Popcorn is a tent revival.
Any day, any time is popcorn-worthy.
And now word is out that popcorn is an abundant source of fiber, and that it has some B vitamins and minerals such as manganese, magnesium, iron, zinc and phosphorous. That major benefits come from popcorn's antioxidant properties.
Good news. Seriously. Because I could, happily, eat it every day.