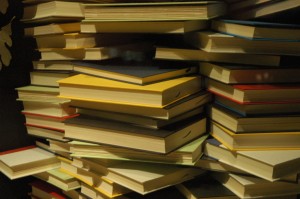 I thought the door was closed. It was not.
I thought they were playing in the living room. They were not.
I just wanted to go the bathroom. That's all. Just a quick visit. I even left the door ajar so I could listen for suspicious child movement.
That's when I heard all the noise. Crashing noises. Not what a mother of toddlers (or any age, I suppose!) wants to hear. Out of the bathroom, down the hall, I made my way as quickly as I could manage toward the sound of impending chaos. But understand, I am not a fast mover. That I can motivate upright at all is miraculous. A diving accident when I was a teenager had left me a diagnosed quadriplegic. But with a mix of prayer, faith, determination, and (lovingly) pushy family members, I'd seen God do some amazing things to improve my mobility.
So, I slowly wall-walked down the hallway, my method of in-house locomotion, touching the walls (or furniture) for balance. After that initial crash, there was now silence. Not a good sign.
I pushed open the door. Well, I tried to push open the door. A barrier.  Ugghh, I pushed harder until I could see into the room.  I saw the reason for the crashing noise. The reason for the barrier.
Books covered the floor. Lots of books. Two little blond-headed, very quiet boys sat unnaturally still amid a mound of books. Three six-foot long shelves were empty. I caught my breath, "Oh dear." Their father's books.
They looked at me, blue eyes big. Then Johnny, the two-and-half year old, said, "Ah, oh." Thomas, the sixteen-month old, looked at him, looked at me, looked down, and repeated, "Ah, oh."
"Ah, oh," indeed.
I sighed. "Okay, out you go. You've made a mess of Daddy's books," I said, giving them my unhappy mommy face. Because I couldn't pick them up and extract them from the mess, I waited for them to stand and stumble over John's collection of thick hardback hardcore history books. A few slips, a few more rips of dust jackets, and they were away from the disaster. They wiggled through the slightly open door and scurried to the living room. "We sorry, Momma," Johnny said. I closed the door. Tightly this time. And decided to call in reinforcements to help me reshelve the "library" later.
From the start of my motherhood journey, I knew that calm was better than frantic, peaceful was better than hysterical, happy was better than sad. Daily I prayed for wisdom when things threatened to unravel me. And like pulling on a snag, unraveling can happen quickly.
While I made their lunch and we ate, I talked to them about the difference between Daddy's books and their books, that books were special and we should be careful with them. I reinforced the importance of respecting what belongs to someone else. "Were those your books?" I asked.
"No," they both agreed and shook their heads. Thomas seemed more interested in his apple than my discourse.
"Do you understand how we treat books now, especially other peoples' books?"
Johnny's small apologetic voice, "Yeah," was mumbled with peanut butter.
After all, the children needed to learn that our house was, and always would be, full of books.
Our bookcases were sometimes three stacks deep with (my) books of English literature, books about faith and Christian living, books with autographs of authors I'd met, and (John's) books of world and American history. John's books, in particular, included volumes that I believed only libraries had. And his books, even ones he's had for years, seemed new. Because he is a peek-reader, never bending the spine, never dog-earring pages, and never ever underlining or writing in margins.
In other words, we cherished our Bigger library.
And I wanted the small ones know the wonder, the power, the happy moments tucked within those pages. I wanted them to learn, to cherish, to appreciate, to respect, and above all, to read. Books.
But, I was still going to double-check that door to the "library." Every day.