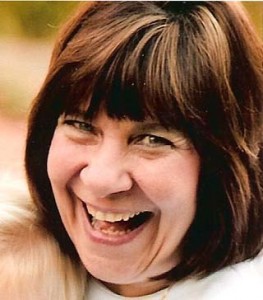 I'm Jama Kehoe Bigger, a wife, mother, grandmother who's decided to spread the word about the importance of finding Happy Day Moments each and every day.
What started as a simple essay I was asked to write morphed into a Facebook project and is now a website. The idea of choosing to be grateful, to find a "moment" even in the worst day, that was happy, that was thankful.
My life and how it relates to discovering happy moments? Well, here's just part of my story………..
I was 13 years old when I dove into a swimming pool and broke my neck, leaving me a diagnosed quadriplegic. The neurosurgeon told my parents that I would never roll over, stand, walk, or use my hands. Since I was from a very athletic family – my father was a football coach at Ball State University – and I was a junior high cheerleader and gymnast, this prognosis of never living a normal, active life was difficult and challenging. Challenging but not impossible. For there were some things I knew for sure, even at that young age – that God was on my side, that He still worked miracles, and that with Him, nothing was impossible. Through faith, lots of prayer and hard work, I didn't stay in a wheelchair, paralyzed from the neck down.
My physical progress was slow (and often frustrating! I was a teenager after all, and patience didn't come easily!), but I learned to stand, then walk with a walker, then two crutches, and finally, I just needed one crutch. I even managed to walk without any aid for short distances, but my balance remained unsteady. At my high school graduation, I walked across the stage, escorted by two classmates.
During this long rehabilitation and miraculous recovery, my family's attitude was remarkable. They never considered me "handicapped" or "disabled." I merely walked slower than others, and often required a bit more help to accomplish tasks. I wasn't different; I was just Jama, and I rarely received any "special treatment." In fact, when I came home from the hospital, as soon as I was able to stand, I was back on dishwasher duty. (My sister, bless her heart, thought I should make up for the five months I was in the hospital when she had to take my place washing and drying the dishes!)
Although my life has not been what I thought it would be (I wanted to be a physical education teacher), I learned early on after my accident that I could not control what happened to me, but I could control how I responded to what happened. What happened to me was so unfair – I was a good Christian kid, didn't cause trouble, was obedient (for the most part), was athletically talented (I could outrun my brothers, catch a football, shoot a basketball, do a roundoff-back-handspring), and had so many possibilities for success. Then, in a split second, I was immobile and paralyzed, and my whole life changed. My choice was this: I could be bitter about what happened, or I could allow what happened to make me better. I could choose to find happy moments.
I chose to be better. I made conscious efforts to focus on what I could do, rather than what I couldn't do. That positive attitude made a world of difference.  After high school, I went to college at Ball State, lived on a dorm, rode my three-wheeled bike to classes, got my driver's license, worked a summer as an Avon lady (yes, going door-to-door!). I made new friends, I dated. I was a fairly "normal" individual. I graduated in three years from the Honors College with B.S. in English and two minors, then completed an M.A. in English a year and a half later, working as a graduate assistant teaching composition courses.  My graduate thesis was the first draft of my book, Then Came a Miracle (which was published a couple of years later through contacts made at Midwest Writers Workshop).
Soon after, I married John Bigger, continued to teach at Ball State, then gave birth to two sons, 14 months apart, Johnny in 1983, Thomas in 1984. And then, with a husband, babies and work – came a whole new set of challenges!
—–
So that's what blogging on this website is about — my daily purpose to pause and give thanks, find blessings, discover joy, give grace, share and see love. Sometimes we're so busy trying for a happy life that we neglect the "moments."
You will find serious posts. You will find humorous posts. You will find posts about saying "yes" – because I am a firm believer than a positive, hopeful attitude can work miracles. You will find posts on how I handled motherhood – because I have the most amazing sons. You will find posts about the joys of grandmothering – because I have the most adorable grandchildren. You will find posts about writing – because I am now director Midwest Writers Workshop.  You will find posts on my faith – because I am not ashamed to proclaim that I love Jesus with all my heart.
But, in all posts you hopefully will find what it means to look for a Happy Day Moment and live with gratitude.
–Jama