I have a love/hate relationship with a Facebook app. You may know the one, Timehop, "your memories await." The app collects your texts, photos, and social media posts on Twitter, Facebook, and Instagram. Then each morning, you can scroll down "your day in history" from one to eight years ago. Oh my.
Sometimes my Timehop includes a photo of delicious pie that I gobbled down a year ago. Sometimes it includes a photo of a friend who passed away a few years ago. And sometimes there are photos from several years back of grandchildren playing at our house.
And always it includes my Happy Day Moment #___ Facebook posts. Always my discovery of a "moment" each and every day (since #1 on April 1, 2010) when I was grateful and "living with gratitude."
So there are those memories where I smile stupidly at my phone, remembering joys and love and happiness; and then others where I have to pause, sigh, stop the scrolling, and close the app, remembering what was and what has changed. Because sometimes everything is too achingly wonderful and too achingly sad.
That's what this life is for all of us. Life truly is HARD.
During lunch with a girlfriend not too long ago, she asked how I was doing. "Actually, I have had a real peace lately," I said. "Then this morning some photos showed up on Timehop, and ka-plooey, some peace-adjustment was needed."
"You should delete that app," my friend said, she who would win trophies for her kindness.
Maybe I should.
But then, as hard as it is to read some posts or see some photos, they are my life. They are what has molded me, strengthened me, taught me. To live with gratitude. Always.
That's my (not-so-secret) weapon. That to weather the storms of life, the seasons of pain and the seasons of joy, the times of leanness and times of bounty, the hard and the soft, when I always lean into gratitude, I don't just survive – I become stronger.
So I won't delete my Timehop app. I'll let its memories, good and sad, remind me I can't control life, but I can control how I respond when "life" happens (i.e., still being grateful). I can decide not to spend time feeling sad about a situation and missing how things used to be, but decide to be thankful for the awareness and empathy and understanding that all my memories have given me.
These, then, are some posts from my Twitter page that will pop up next year in my Timehop memories. These are a handful of my daily tweets from the summer of 2016. May they edify you, build you up, encourage you. May they make you stronger if you also have a love/hate relationship with your Timehops.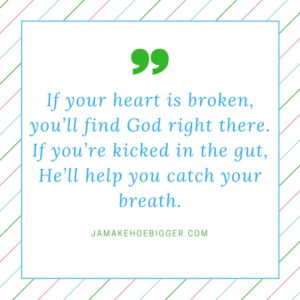 May the power of love that holds us together be greater than the power of any offenses that separate us.
God doesn't reject a heart that is broken and honestly regrets the past.
Reconciliation with others can be long and difficult, but it usually begins with small acts of mercy and grace.
Never stop hoping, no matter what you've been through, or are going through.
The world will always have brokenness and sorrow. But it will also always have God's grace.
It takes a strong soul with real heart to develop smiles out of situations that make us weep.
The glorious thing about life is we have a daily choice regarding the attitude we will embrace that day.
You may be frustrated and tired and weary, but don't give up.
Let's keep loving and forgiving others even when they make stupid mistakes.
I'm not making this up: God will walk with you through this.
[Tweet "May the things that once irritated, or angered, or stressed us have little or no effect anymore."]


Sometimes when you least expect it, God is there with answers.
Sometimes when we're kind, we still disappoint people. It's okay. Be kind anyway.
When we defend our opinions, let's do it with gentleness and respect.
When we are grateful, we are stronger, and life is more beautiful.